Our Story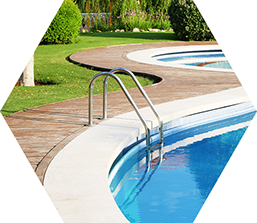 Mary Humble founded her pool service business in 1976 with the idea of treating every pool as if it were her own. She launched her dream with nothing more than a beat-up '62 green pickup truck and a tremendous work ethic. The company grew steadily with an all-woman workforce for over 20 years.
I remember in 1998, her son Stoni and I were in business school together and in need of summer employment. We went to work for Mary and were eager to "help" her with all we had been learning from our professors at Wichita State. We noticed she was doing a lot of work that wasn't part of the services she was charging for, such as cleaning grass clipping left by landscapers or getting on her hands and knees to scrub the underside of equipment around the pool area. We pointed out if she would cut out those activities she could complete more jobs in a day. After all, none of her competitors were doing it, and her customers had no idea she was doing it either.
Mary wouldn't hear of it, and she spent the rest of that summer teaching us a more impactful lesson. Humble wasn't just selling a cleaner pool. Any number of companies could do that. We were providing customer's peace of mind that when they wanted to enjoy their pool it would be perfect. Humble's mission was to make sure their pool area was something they could always be proud of. In turn, we learned that was something we could be proud of. For us, "good enough" would never be good enough.
Now in 2016, Humble's mission is stronger than ever. Mary's son, Stoni Beauchamp, transformed his part-time role into a career after earning his degree, and acquired ownership of the company shortly after. To this day, Mary plays an important role in day-to-day activity as customer service and scheduling specialist.
In 2014 Humble Pools was able to partner with Stoni's lifelong friend Michael McDonald, who was building one of the fastest growing Lawn and Landscaping businesses in the local area. After careful consideration it was clear Michael shared the same dedication to the customer experience, and Humble Lawn and Pool was born. This partnership now allows Humble to offer a more complete and satisfying outdoor experience to its customers. Whether it is sod installation, pool repairs, weekly mowing, or any other outdoor needs, Humble is prepared to fulfill every project from start to finish.
Thanks to our excellent customers (several have been with us for 30+ years) 2015 was another record breaking year. This calculated and measured growth strategy has allowed us to maintain a precise focus on the customer experience. Humble Lawn and Pool is very thankful to all of those that have allowed us this opportunity and we focus everyday on being the kind of company our customers, partners, and associates want to be a part of.